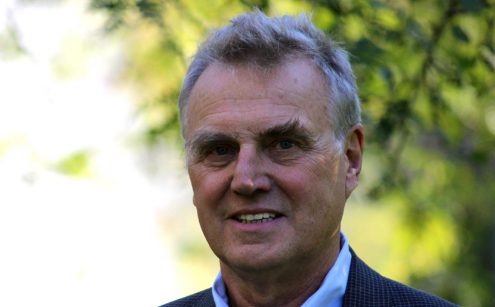 Joe Weiss (via Facebook)
But the highlight of my day came as I was passing out palmcards as families were making their way from an elementary school track meet next to the polling place. I was chatting with two 15 year-old student volunteers when a taller man dressed like a fake lumberjack ambled his way right up to me. I asked him if he was on his way in to vote and he said that he wasn't, and asked me what my name was.




I told him, and he came even closer — his body touching mine, ever so tenderly, and got right in my face. He declared that I had once told him to "go fuck [him]self" in an email a few years ago. I responded, "Did I?" He said, "Yeah." I said, "Are you [former Clarence town councilmember] Joe

Weiss?" He replied, "Yeah. and I want to tell you to go fuck yourself". I thanked him, never backing down from where I stood, and as he skulked away I added, "nice language around the kids."

He stopped, turned, and said, "You know, I really should kick the shit out of you right now".
Weiss may indeed be a dangerous, belligerent man of whom people should be wary, but he is also a purveyor of facile regurgitation of half-truths and nonsense.

I just finished planting another money tree. Like the majority of my Clarence neighbors, my property assessment went way up. This new tax bite now requires residents to possess a money orchard.
Property assessments went "way up" in April and May of 2015 - a year ago. Yet for some reason this detestable oaf decides that 12 months later is the right time to whine about a town process that recognizes the fact that housing valu

es in Clarence continue to rise.
Joe Weiss' house is now assessed at $650,000, up from $556,000 in 2011 - 2015. Sounds like it was dramatically undervalued. He gets no STAR rebate. The only explanation for that is that his income exceeds the upper limit of eligibility for STAR; his household earns over $500,000 per year.
Why, you ask? One reason is that even with declining enrollment, the Clarence teachers were given a 3 percent raise on top of their yearly step increases. And at the same meeting that the music department bemoaned their lack of funding, the superintendent himself claimed a nice plump raise.
A "yearly step increase". Here's what this means, as per the Clarence Bee: "
Under the terms of the agreement, teachers on the top step of the salary schedule will receive raises of $1,500 in each of the three years. Teachers on the salary schedule will receive $175 in addition to their step increment for the first two years of the contract and $180 in addition to their step increment in the third year of the contract. I
ncrement step increases are mandated by the state, and the total raises represent less than 1 percent more than that during the life of the contract."
Joe Weiss was demonstrably absent from the school board meeting where the music department expressed its need for increased funding - funding that the anti-tax geniuses like Joe Weiss took away in 2013.
It's not only the cost of Clarence schools. We have dozens of fire trucks for a handful of fires. These are housed in shiny, sprawling volunteer firefighter campuses that sport workout rooms, banquet halls, ball diamonds, spacious parking lots and impressive acreage, all which require maintenance and upkeep.
People in Clarence will recall that Weiss was hurled out of office thanks to his endless scapegoating of the volunteer fire departments and their members for taxes. "Spacious parking lots" for me, but not for thee.
We in Clarence pay more for our trash collection – being the only major suburb that allows for several companies rather than one low bidder. That traffic adds to more wear and tear on our roads. We get nothing for our recyclables and enjoy a daily blizzard of paper and plastic blowing about our streets.
Yeah, I remember that. Anti-tax people like it that way because "no new taxes". Thanks to their "free market" nonsense, Clarence residents pay significantly more for trash pick-up than similarly situated towns that enjoy a townwide contract or municipal trash service.
So, you may wonder, where is our government? Well, our town fathers know we are too lazy to get involved or bother to vote. Any official who criticizes the status quo is easily defeated thanks to big turnout by firefighters and teachers, because fewer than 20 percent of us show up for primary elections.
Sour grapes from a time long ago.
So, what? We live in a third-ring suburb and by the time the abandoned homes, crime and poverty reach us, we'll be settled in Florida or taking that long nap in the funeral home.
I smell a euphemism here.
Everything is just ducky in Clarence, as long as your money tree stays green.
Yours is greener than most. Stop whining, loser.
Nice try.