Today is Tuesday, and the polls are open until 9pm. It is more critical than ever before that you vote YES, and that you vote for the only candidates who are acceptable for the Clarence school board.
Michael Fuchs is an incumbent and has served the district and its students and faculty well. He is against unsustainable cuts to educational opportunity for our kids, and wants to restore the district to its former excellence. He has worked for Rich Products for well over a decade, handling the finances of a huge local corporation. He has the skills, education, experience, and integrity to continue serving us well for the next 3 years.
Dennis Priore is a longtime resident of Clarence and a former principal and school administrator. As a recent retiree, he has time, knowledge, experience, education, and skills to marshal in order to serve our district. He knows how budgets and union negotiations are made, and he has pledged to balance the needs of the students with the expectations of taxpayers.
Michael & Dennis are the only candidates running for school board who are homeowners and school taxpayers.
Michael & Dennis are the only candidates running for school board who are on the right side of this ongoing battle, and they won't let the students be further harmed by financial shenanigans or disastrous tea party austerity.
As if that wasn't enough, let's take a look at one of their opponent's closing argument. It perfectly distills all of the reasons why he is an unacceptable and noxious candidate for a school board. Uneducated, inexperienced, with absolutely no credentials or resume, this person is all bluster and no substance.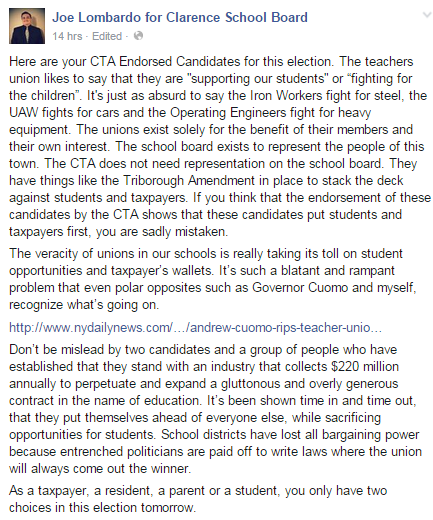 Let's examine. (All [sic]).
Here are your CTA Endorsed Candidates for this election. The teachers union likes to say that they are "supporting our students" or "fighting for the children". It's just as absurd to say the Iron Workers fight for steel, the UAW fights for cars and the Operating Engineers fight for heavy equipment. The unions exist solely for the benefit of their members and their own interest. The school board exists to represent the people of this town. The CTA does not need representation on the school board. They have things like the Triborough Amendment in place to stack the deck against students and taxpayers. If you think that the endorsement of these candidates by the CTA shows that these candidates put students and taxpayers first, you are sadly mistaken.
It takes a special brand of malevolent cynicism to conclude that the teachers are full of shit when they say they're fighting for the children whom they teach. It takes an even more special type of ignorant, noxious attitude to assume that teachers are just in it for greed.
Here's the thing that Joe doesn't understand - mostly because he evidently never so much as received an associate's degree after high school (his resume is a closely guarded secret he won't reveal) - teachers didn't attend 4 years of college and then an additional few years of postgraduate study to obtain their M.S. and teaching certificate in order to get rich.
If they wanted to get rich, they could have gotten an MBA and traded commodities, or become entrepreneurs. Instead, they joined a noble profession for which Joe Lombardo has no respect.
None.
Some punk kid decides he doesn't like unions or teachers, (or teachers' unions), so he just accuses them all of being greedy pigs at the public trough, driving around in their Bentleys on their $60,000 median salaries, right? They couldn't possibly be in it for the love of teaching or the thrill of educating and molding young minds, because that sort of notion is not one that Lombardo has any concept of.
An ironworker may be proud of the work that he or she does - constructing the skeletons of large buildings, and their union helps to ensure that they're paid a fair wage and receive decent benefits for their labor. A UAW member is proud of the product that he or she helps to manufacture, and wants to make sure that they're paid a fair wage and receive fair benefits for their labor.
A teacher is proud of the work that he or she does - educating the next generation of Americans. Educating the kids who will heal Joe Lombardo when he's sick; who will represent him in court; who will manage or create the company he patronizes; who will entertain him on stage or screen; who will score a touchdown or hit a home run. You denigrate teachers, you denigrate the very foundation of our society.
The veracity of unions in our schools is really taking its toll on student opportunities and taxpayer's wallets.
That is not a sentence that has any reasonable meaning in the English language. Which taxpayer's wallet? "Veracity" means truthfulness.
It's such a blatant and rampant problem that even polar opposites such as Governor Cuomo and myself, recognize what's going on. http://www.nydailynews.com/…/andrew-cuomo-rips-teacher-unio… Don't be mislead by two candidates and a group of people who have established that they stand with an industry that collects $220 million annually to perpetuate and expand a gluttonous and overly generous contract in the name of education.
Here's the question they'll never, ever answer:
How much do you think is a fair salary for a teacher? What do you think are fair benefits for a teacher? How would you - as a school board member - make changes to the state laws governing teacher pensions? How would you work around the Triborough Amendment and beat the teachers into submitting to your austerity wage cuts and slashing of benefits?
85% of Clarence teachers are ranked as "highly effective" by the state.
On what insane lunatic planet does someone institute punitive wage and salary cuts against a workforce that regularly exceeds expectations? Shall we have an army of the worst teachers who can't get a job anywhere else come and educate our kids for $10/hour and no benefits?
It's been shown time in and time out, that they put themselves ahead of everyone else, while sacrificing opportunities for students.
I'll say it this way: Joe Lombardo must not have ever talked to a teacher and actually asked them what their job entails. He assumes they show up at 8, leave at 3, take summers off on the Cote d'Azure, and spend the rest of their time making sure their BMWs gleam in the sunlight. I'll say it this way, too: Joe Lombardo doesn't know what the fuck he's talking about.
School districts have lost all bargaining power because entrenched politicians are paid off to write laws where the union will always come out the winner.
And as a school board member, you'll do what about that, precisely? Start a coup?
As a taxpayer, a resident, a parent or a student, you only have two choices in this election tomorrow.
That's right. MICHAEL FUCHS and DENNIS PRIORE. The only two candidates who are campaigning on a platform of stronger schools, rather than demonizing the very teachers who help make our district what it is today.
MICHAEL FUCHS and DENNIS PRIORE are the only candidates who don't refer to teachers as "gluttonous," or use the pronoun "they" to describe these educators who repeatedly and consistently go above and beyond for our kids.
MICHAEL FUCHS and DENNIS PRIORE are the only candidates who aren't pitting "us" against "them". Literally - read Joe's thing again. It's all resentment, class warfare, and visceral hatred of teachers, and the notion that they be remunerated fairly.
MICHAEL FUCHS and DENNIS PRIORE aren't afraid to put their resumes out there for the public to review and assess.
The "J" in "J&J" stands for "joke".
Vote Michael & Dennis. You have until 9pm to do the right thing .